Mormon News Report: 6 July 2017
---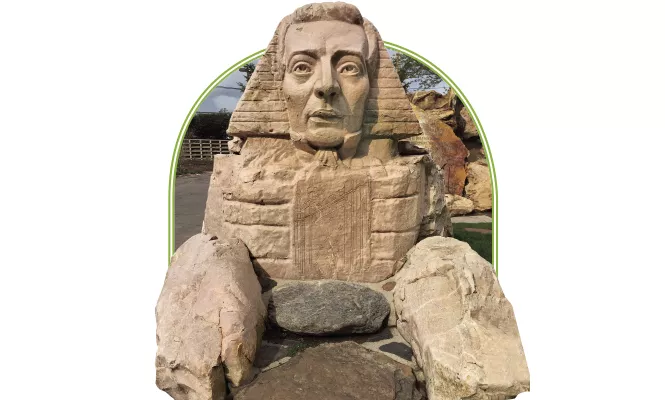 Have you ever heard about the Gilgal Gardens in Salt Lake City? What about the Joseph Smith Sphinx? Dylan Harris of Salt Lake City Weekly looks at the Gardens, which Atlas Obscura included on their list of "quirky things to see in Utah," and how you can help preserve the Gardens.
From the Mormons Behaving Badly files, courtesy of DevonLive.com (Exeter, UK): "Stewart Allsford took his own life by jumping off Berry Head at Brixham half way through a trial at Exeter Crown Court where he was accused of sexually assaulting two girls. The case was closed formally by Judge Geoffrey Mercer, QC, after a death certificate was supplied by police…The 66-year-old, of Davies Avenue, Paignton, was on trial after denying four counts of indecent assault, one of assault by penetration and one of abducting a child under 16. The alleged abuse took place during the 1990s at a time when he was in charge of a congregation of the Church of Latter Day Saints in Torbay, holding the title of Bishop."
The Smithsonian Magazine looks at the fall of the Zion Curtain in Utah, and Utah's interesting history with alcohol legislation
A surprising OpEd from the Deseret News about the current medicinal marijuana ballot initiative in Utah. The only Mormon reference is that of the author, Nathan Frodsham, but I'm more surprised that the DesNews ran with it. Here's the big tension in Utah right now – Utahns are notoriously Conservative Republican, but there's also a VERY strong Libertarian streak. The big question is going to be if that Libertarian streak bumps up against recommendations from the LDS Church, and how Utahns will side. The LDS Church didn't come out as strong as I thought they would on the issue, which could make the ballot. In Utah, proponents of an initiative must gather signatures equal to 10 percent of the total votes cast for president in the last presidential election. The number required to get an initiative on the 2018 ballot is 113,143. The deadline to file signatures for the 2018 ballot is April 15, 2018, or 316 days after the petition was initially filed with the lieutenant governor, whichever comes first. The initiative petition was filed with the lieutenant governor on June 26, 2017.
Panic! At the Disco's Brendon Urie was raised Mormon. He talked with Jeff Nelson from People Magazine about his "conservative Mormon" parents thoughts on his "rocker life," Urie said "When I told them I wasn't going to college or on a Mormon mission, that I don't believe in God and I was pursuing music, they were like, "You've gotta move out." They cooled off, and when we made our first Panic! at the Disco album, I got a care package from my family with this beautiful letter: "No matter what, we will always love you.""
LDS Living reports that some garment styles will be discontinued at LDS Distribution Centers after 31 October 2017. For women, Dri Lux top and bottom, DriSilque flare-leg one-piece, and the Drisilque snug-leg one-piece (petite and tall sizes) will be discontinued. For men, the Cotton-Poly mid-calf bottom, Cotton-Poly zipper-front one-piece, Nylon Mesh one-piece, and Corban one-piece (tall sizes) will be unavailable after 31 October.