Mormon News Report: 2 August 2017
---
BYU-Idaho's new brand: 'student focused by design' (Deseret News)
I'll try not to go into too much BYU-Idaho insider baseball, since it's pretty well known that I've got a vested interest in the University. Tad Walch of the DesNews reports that BYU-Idaho is rebranding itself as a university "student focused by design." Walch writes "The message is that the school's commitment to undergraduate students is rare among large American colleges and universities. The school offers no graduate degrees and asks faculty to focus on teaching, not research." Walch also notes that a 2015 survey of the student body found "five hallmarks students recognize in the university — the teaching-focused faculty, affordability, small-class sizes, students who share values and a focus on real-world preparation." I'm sure many of these things have been in the works for a while, but it's very interesting to watch the different directions the University seems to be heading under different administrations. I was there during the Kim Clark years (my first semester was his first semester), and my opinion and perspective was that he wanted the University to be the equivalent of a theological seminary which just-so-happened to allow you to get an accredited degree. Clark Gilbert was after Clark, and there wasn't much from him in his short time as University President (I have been told by a few in Rexburg that he rubbed the wrong people the wrong way, so take that for what it's worth). I'm not going to say this is totally 100% current BYU-Idaho president Henry J. Eyring's vision for the University, but a renewed emphasis on making BYU-Idaho a viable and quality education is exactly what the institution needs right now, NOT a doubling down on the religious principles. For that, consider me "cautiously optimistic."
Elizabeth Smart Lifetime movie airing this November (Deseret News)
Mark your calendars – on November 18th, the Lifetime Channel will premiere an original movie, "I Am Elizabeth Smart." Preceding the movie, on November 12th and 13th, Lifetime will debut a two-part documentary about Smart's case and her life. Michelle Garrett Bulsiewics of the Deseret News reports on Smart's appearance at the Television Critics Association, where Smart says "I will say that it is the best worst movie I've ever seen. I mean, I think it's so well done. I think it was accurate…I'm very proud of it, but at the same time, part of me thinks I'll be happy if I never have to watch it again." It's a Lifetime movie, so don't expect the quality of, say, an HBO original movie, but again, the theme of today's News Report is that I'm cautiously optimistic. I'll be watching both the documentary and the movie and live-tweeting my thoughts / analysis on Twitter (@TheMormonNews), but we've still got 3 months before the premiere.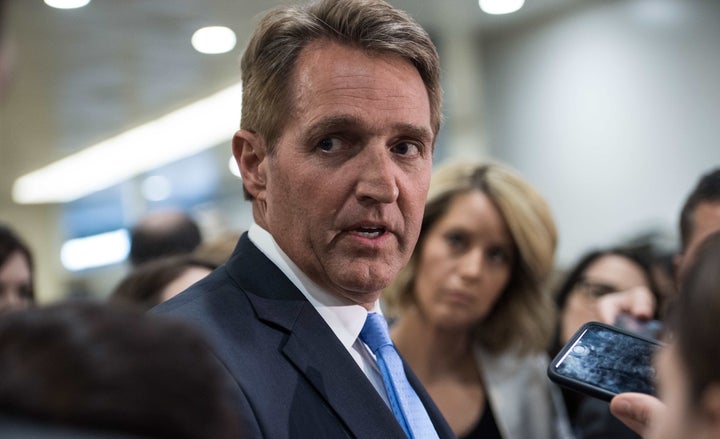 The Mormons Could've Saved Us (Huffington Post)
The Huffington Post looks at fellow Mormon Senator Jeff Flake (R-AZ) and his continued spotlight as one of the few Republicans speaking out against the Trump organization. Contributor Jason P. Steed writes "Flake is a Mormon (a member of The Church of Jesus Christ of Latter-day Saints). Mormons have largely voted Republican since the 1970s. Typically, they vote for the Republican presidential candidate at a rate of roughly 75 percent — and that rate spiked to 85 percent when Mitt Romney ran for president in 2012. (Romney's a Mormon too.) But Mormons didn't like Trump in 2016. Romney spoke out forcefully against Trump's candidacy in March. Evan McMullin (also Mormon) launched an anti-Trump third-party bid for the presidency. The New Yorker credited Mormons for saving the Never Trump movement. And some polls showed Trump might lose Utah (the most Mormon-heavy state) — which hasn't been purple since 1968." Steed's position is interesting – "What if prominent Mormon Republicans like Flake and Romney had gotten serious about their opposition to Trump?" In essence, Steed gives Flake credit for standing up to Trump and putting party loyalties aside, but wishes he would have done more.
On the EDge: We deserve better than a 140-character presidency (St. George News)
Ed Kociela of the St. George News looks at the current environment of politics in the Twitter era, and while there's a lot of talk about national politics, he gets into the Utah side of things…and naturally the Mormons are brought up: "But that is the state we find ourselves in, even in Utah where Legislators are tripping over themselves to make accommodations to preferential segments of the population by considering John Cannon as the replacement for Michael Christensen. Christensen is retiring as the head of its Office of Legislative Research and General Counsel, which provides legal and policy review of proposed legislation. The problem here is that Cannon is currently the top legislative lobbyist for The Church of Jesus Christ of Latter-day Saints and that is a major problem for a Legislature. The office has a reputation as a nonpartisan body, however the appointment of Cannon would cast a long shadow, especially among those who say the LDS church already has far too much influence over Utah's legislative matters. In the area of governance, where suspicion of collusion and partiality is unacceptable, this would be a major blow to the Legislature's credibility. But, that's what happens when the lines between church and state are blurred or, as some would insist, erased." As an outsider to Utah, I've always been fascinated not just by Utah politics, but the role of the LDS Church within Utah politics. Who would have thought that religion + politics = messy?
How (Not) to Respond to Apostasy (Love, Joy, Feminism)
Libby Anne of the Patheos blog "Love, Joy, Feminism" looks into the LDS Living story about Kaydin Alabbas, the boy left at Bryce Canyon by his parents because he was struggling serving a mission in the coming weeks. We've got into the story in-depth on the News Report, but Anne (who was raised in, from what it sounds like, an extreme conservative Evangelical upbringing) looks at both the reaction of Alabbas' parents and his grandparents, and writes "Alabbas' grandparents provided him with a space of (comparative) acceptance. They gave him room. They showed him (more) unconditional love. It wasn't his parents' judgement that convinced Alabbas to go on the mission after all. It was his grandparents' acceptance and the space they gave him."
Denver Snuffer and the Remnant Movement (KUER RadioWest)
Friend-of-the-Report Lindsay Hansen Park was on KUER's RadioWest yesterday talking about the so-called Remnant movement, Denver Snuffer, and the retrenchment and foundationalism movements occurring within some sects of Mormonism. She was also joined by Joseph LeBaron, a filmmaker with "particular interest in Mormon fringe groups." I've said it before – Doug Fabrizio of RadioWest is the best interviewer on Mormon subjects hands down. Lindsay Hansen Park has been involved with following, tracking, and attempting to assimilate into many of these groups for close to 3-4 years, and knows more about these groups than others. The audio has been posted on the KUER website (and it's available on their podcast feed), and it's a must-listen.
Elder and Sister Renlund to speak 'Face to Face' with LDS youth in Ghana
Elder Dale G. Renlund of the Quorum of the Twelve Apostles of The Church of Jesus Christ of Latter-day Saints and his wife, Sister Ruth L. Renlund, will be answering questions from the youth in Africa during a regional Face to Face event on Aug. 5. The apostle and his wife will be filmed live from the new MTC in Accra, Ghana. The event will be broadcast in English, Portuguese, Malagasy and French for those living in the region. It will be available on the LDS Youth Facebook page.
SHAMELESS PLUGS!
The Mormon News Report Podcast: Week of 24 July 2017
Need a Mormon News fix in audio format? Join myself and Brian Whitney as we run down the week's top Mormon stories, talking about the milk-and-honey world of the MTC, the new LDS Young Men program taking the place of the Venture / Varsity Scouting Programs, and we chat with Tracy McKay, author of the great memoir "The Burning Point: A Memoir of Addiction, Destruction, Love, Parenting, Survival, and Hope" available through BCC Press
The Mormon News Report Extended Sessions
Oh, the Mormon News Report Podcast wasn't enough for you? Want to support the show, and get a perk for doing so? Check out the Mormon News Report Podcast Extended Sessions, where we talk longer with Tracy about her life and her book. All we ask is $1 per month, and you get access to some great interviews and archives.