Mormon News Report: 4 August 2017
---
LDS missionary from Chile killed after contact with electrical wire in Guatemala (Fox13)
Sad news from Guatemala, as the LDS Church reports an missionary died after coming in contact with live electrical wire on Saturday. An LDS Church Spokesman said missionaries and first responders attempted to resuscitate 22-year old Heidi Andrea Ortega Huber of Santiago, Chile, however, her injuries were fatal. Huber had been serving in the Guatemala-Guatemala City Mission since August of 2016.
Chris Hicks: 'Book of Mormon' musical? No thanks, but it's not what you think (Deseret News)
Remember how I told you last week that it's going to be deja vu due to the Book of Mormon Musical now running in Salt Lake City? It's time. Chris Hicks of the Deseret News wants everyone to know he WON'T be seeing it. "But don't misinterpret my reluctance. It's not because I might find the jokes about the church offensive…No, my reason for just saying no has more to do with the stage production's level of bawdiness than its attacks on Mormonism…That's right. I just don't care for raunchy comedies. I like to laugh but I don't like to cringe." So it could have been worse – and you know what, I'll respect someone for saying "It's just not my type of show, and I don't care for things like that" vs. the moral outrage that is inevitably coming from the Motherland. Frankly, it's refreshing to read a rational take from the Deseret News.
The Unusually Popular Summer Travel Spots for Each State (New York Times)
Utahns. Y'all got weird places you like to visit. The New York Times recently compiled data from Facebook that tracked where people across all states checked in when they went on vacation outside the country. Some were fairly obvious – Texas, Arizona, and New Mexico listed Mexico (should I call it "Old Mexico" to avoid confusion?), Florida listed Puerto Rico, Michigan (my home base) listed Canada. And then there's Utah. Their top destinations, in order, were: Tonga, Samoa, American Samoa, Peru, and Brazil." From the Times: "Despite the island's small footprint, it was the most unusual summer travel spot for Utahns compared with Americans overall. The state is home to the largest share of Tongan-Americans in the United States. The reason? The Church of Jesus Christ of Latter-day Saints, which became a popular religion in Tonga in the late 19th century. Utah has an L.D.S. population of more than two million, who make up about 30 percent of all L.D.S. followers in the United States."
Letter to the Editor! "Church has been silenced" (Salt Lake Tribune)
African youth talk "Face to Face" with Elder Dale G. Renlund and Sister Ruth L. Renlund (Deseret News)
The Deseret News covers Elder Dale G. Renlund and Sister Ruth L. Renlund's talk to youth in Africa and the Indian Ocean Islands held at the Accra Ghana Missionary Training Center. This is the second regional Face to Face event and the first in Africa. The Q&A coverage from the Deseret News was, well, what you would expect from an LDS meeting, but in my mind the more important thing is that members in Africa and the Indian Ocean Islands got this opportunity, and I would love to see it expanded, and quite possibly this being the norm (the Face to Face events happening overseas and in other less-Mormon populated areas).
Letter to the Editor! "[Book of Mormon] Musical is the Mormon Kristallnacht" (Salt Lake Tribune)
This one has been getting passed around a lot lately. For those of you who (like me) might not know German, the Kristallnacht was "was a pogrom (or violent riot aimed at the massacre or persecution of a religious or ethnic group) against Jews throughout Nazi Germany on 9–10 November 1938, carried out by SA paramilitary forces and German civilians. The German authorities looked on without intervening. The name Kristallnacht comes from the shards of broken glass that littered the streets after the windows of Jewish-owned stores, buildings, and synagogues were smashed." So…basically I'm sure this is going to be a very rational, well-thought-out take on the issue.
In our opinion: Communities yearn for religious and secular Sabbaths (Deseret News)
So this is more of a general religious Editorial Staff OpEd from the Deseret News, advocating for "religious and secular Sabbaths," but a trend I've noticed recently when they publish their staff OpEds is this line – and it's happened in a few of their pieces – "A local grocery store long known for keeping its doors closed on Sunday has decided to open in select locations on a day considered sacred within numerous Christian traditions, including The Church of Jesus Christ of Latter-day Saints, which owns this paper." On the one hand, it's nice to see the upfront acknowledgement which, in a sense, should articulate the inherent bias of the OpEd. On the other hand, it's such a ham-fisted way to say it. Is it used as an ethos-establishing line? "Well, the LDS Church owns this newspaper, so…" Or is it used as a full-transparency acknowledgement? The world may never know.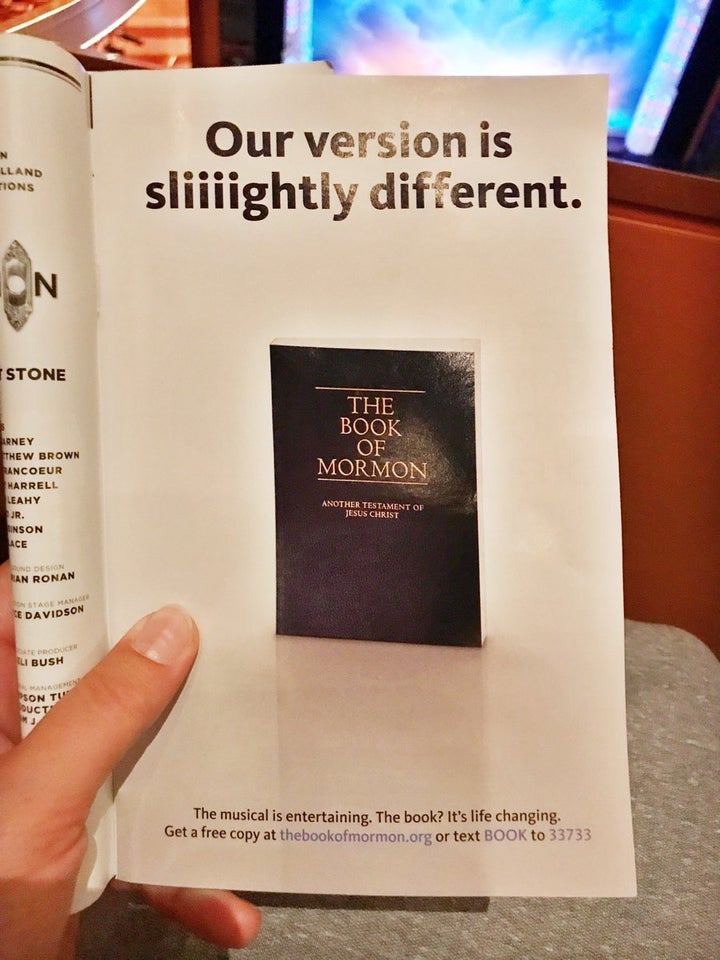 The LDS Church Actually Has A Pretty Good Sense Of Humor About 'The Book Of Mormon' (Huffington Post)
Again, more with the Book of Mormon deja vu – this time, with the ads in the musical's program. Back in 2012, the LDS Church took out ads in the Broadway playbill with the funny tagline "The Book is better," and other variations. Well, they're doing it again, this time at the Eccles Theater in Salt Lake City, with the tagline "Our version is sliiiightly different." The Huffington Post's Antonia Blumberg acknowledges in her headline "The LDS Church Actually Has a Pretty Good Sense of Humor about 'The Book of Mormon'"
No alcohol inside Eccles Theater at The Book of Mormon play (KUTV)
I keep saying that observing the Utah – Mormon dynamic from the outside is funny to me. Here's an example – a lot of chatter is happening about the Eccles Theater being prohibited from serving alcohol due to Utah State Alcohol laws, and people are feisty. For example, ""Utah law does not allow alcohol inside venues which display sexual content, which is part of the 'Book of Mormon.' For Ryan McCarty, who had a beer with his wife in the lobby before the show, the law is silly. "The fact that there's adult material, and this is an adult beverage, it would seem those would go hand-in-hand," he said.
BYU-Idaho Student Blasts School For Punishing Rape Victims (Progressive Secular Humanist)
I need to tread lightly on this one. The Progressive Secular Humanist blog at Patheos has a piece today about a BYU-Idaho Student who "Blasts School for Punishing Rape Victims." That's a provocative headline that caught my attention. Let's dig in. Blogger Michael Stone covers the story of a student who received an email message from the school asking her to take a survey about why she left the school. The former student replied "Your survey didn't let me log in, I didn't return to BYU because I was raped by a student and the honor office and Dean Harris held me accountable and suspended me for it. Do not email me again. Thank you" Where does the story come from? A screenshot of the student's reply to the ExMormon Subreddit. Stone covers blogger Hermant Mehta at the Friendly Atheist blog, who writes "… the person who posted that email on the ex-Mormon subreddit told me last night that police didn't have enough evidence to pursue a case, which led the school's "Student Honor Office" to assume she had consensual sex… which is why they suspended her. (Pre-marital sex is banned on campus.) Adding insult to injury, when she returned home, she still had to "go through a repentance process" with her bishop. That's when she decided it was time to leave the Mormon Church for good." OK. Like I said, I'm going to tread lightly, because there's a lot here. First and foremost, that culture within the BYU-Idaho administration has to change. Has. To. Change. Period. I'm not doubting the story of the individual – that's not my place. But I'm all for objective coverage of the story, and sourcing from the ExMormon subreddit, pulling a few choice quotes from other areas (in his piece), and using charged language is verty much the work of a blogger, and not necessarily that of a journalist. I'm sure that's high and mighty of me (I'm a blogger), and as an alumni of BYU-Idaho, it bothers me probably more than Mr. Stone, but I would expect the quality of writing and reporting to be higher than sourcing from the ExMormon subreddit.
How to catch up on the Summer Seminar on Mormon Culture (BYU Maxwell Institute)
The 2017 Summer Seminar on Mormon Culture wrapped up yesterday at Brigham Young University with their closing symposium, where the students involved presented papers on what they worked on this summer. Blair Hodges of the Institute notes " Their presentations ran the gamut—from food storage and survivalist movements, to Mormon suffragettes protesting war, to 1950s women's swimwear designed by a fascinating Mormon, and much more." Naturally, everyone (myself included) wants to know if the sessions will be available in video or audio form…and they won't. Which makes me sad, but there's a reason! "Researchers prepare working papers—meaning they represent preliminary research. Following the seminar, participants refine their papers. Some seek professional publication. Articles based on working papers have appeared in academic journals and even books from university presses. We don't want to scoop the researchers! We follow their lead." I guess I'll have to wait.
Elder M. Russell Ballard attends British Pageant (Mormon Newsroom)
On August 3, 2017, Elder M. Russell Ballard of the Quorum of the Twelve attended a "Victorian celebration in Chorley, Lancashire England" of the British Pageant, telling the history of the LDS faith in Great Britian and Ireland.
Jeffs may have memory loss according to his attorney (Good4Utah)
More from the Lyle Jeffs case playing out in Federal Court, this from Good4Utah.com: "Kathryn Nester told a federal judge Thursday that a neurological exam is needed to determine if two accidents from his past are affecting his ability to recollect. Nester also said Jeffs is competent to stand trial but the possibility of memory loss may prevent him from having a fair trial." Good4Utah has the transcription of the two incidents of head trauma, including falling from a 3 story building hitting his head on concrete and rocks and suffering a TBI (traumatic brain injury) as well in 1998 when Jeffs was in a car accident, ejected out of his vehicle, and was found lying on his back, unconscious with severe lacerations to the forehead. And then there's this: "An assistant U.S. Attorney, Robert Lund asked why the issue of brain damage was never brought up before. He also said several witnesses claim they never saw any signs of Jeffs having problems with his memory." Buckle up, everyone – this is going to be an interesting trial.
SHAMELESS PLUGS!
The Mormon News Report Podcast Episode #5: Week of 7 August 2017
Need a Mormon News fix in audio format? Join myself and Brian Whitney as we run down the week's top Mormon stories, including Elder Jeffrey R Holland​'s retraction of a faith-promoting story, the public doesn't hate polygamy as much as they used to, the LDS Remnant movement with Denver C. Snuffer Jr.​ and the RLDS Remnant movement gets Brandt all confused, BYU (Brigham Young University)​ wins a major award for the 20th straight year, and the Deseret News​ talks about "kids these days" and their religious freedom views. Plus Loyd Isao Ericson joins us to talk Greg Kofford Books'​ latest collection of essays "Apologetics."
The Mormon News Report Extended Sessions with Loyd Ericson
Oh, the Mormon News Report Podcast wasn't enough for you? Want to support the show, and get a perk for doing so? Check out the Mormon News Report Podcast Extended Sessions, where we have a fun debate with Loyd about Mormon Studies and the LDS faithful. All we ask is $1 per month, and you get access to some great interviews and archives.